Perpetual Plastic
Beach debris reveals the fate of all plastic ever made
Since the early 1950s, 8.3 billion metric tons of plastic have been produced for human consumption. To understand the environmental legacy of exponential plastic production, artists visualized what happens to plastics after its first use.
Installed on a beach in Bali with marine debris collected from nearby, this data artwork investigates our global plastic waste stream and emphasizes how mismanaged waste ends up in the ocean.
Documentary film
A team around director Eric Ebner has produced a documentary film on the project, which is now shown at a couple of festivals around the world:
Background & rationale
Our focus
Our project highlights the scope of the plastic problem (in terms of amount produced as well as its fate) and the transformation of plastic over its lifetime, using beach debris as a salient example. The situated, participatory data installation approach extends abstract displays of numbers towards a more gripping form of 'data visceralization.' The direct link to beach clean-up activities suggests immediate opportunities for action, turning the sculpture into a catalyst for engagement.
Rivers as main conduit of ocean plastics
1,315 metric tons of plastics debris enters the ocean from Indonesia every single day. Without effective plastic waste management, the only way to handle the vast amounts of single-use plastic waste in Bali is to either openly burn or to deposit it next to rivers so that the next rains will carry it 'away'.
Beach cleanups as constructive action
Perpetual Plastic was realised with a team of 50 volunteers who collected the plastic debris needed in a series of three beach clean-ups, all picked up along Bali's west coast. These beach clean-ups are called Make Art Not Waste: instead of gathering all waste, the collection is focused on color, shifting perspective away from negative associations of waste to creative action.
Disposable soles
Flip-flops are ubiquitous in Southeast Asia as a cheap and essential convenience in a highly populated, tropical region. As a highly disposable item found in abundance on all beach cleanups, this installation challenges designers to reconsider the fate of their materials. Our social media strategy will highlight their transformation from shoes to the microplastics that we associate with oceanic plastic pollution.
Creature comforts
6.5 million tourists visited Bali in 2018, many of which were offered single-use plastic hotel slippers for their stay. These slippers can end up in the ocean where there is no efficient waste management in place.
Fishing with synthetics
Bait bags are used by local fishermen who catch wild rock lobsters to sustain their families. Breaking from tradition, new bait bags and traps are made of synthetic materials such as polyethylene and nylon, which persist in nature.
Sealed water cups
In Bali, sealed water cups are handed out for free to tourists and locals alike and a single event can easily produce hundreds left behind in the environment. Because the cups are so lightweight, there is little incentive for waste collectors to pick up and recycle them. Made of a different kind of plastic, the film on top causes additional problems for recycling efforts.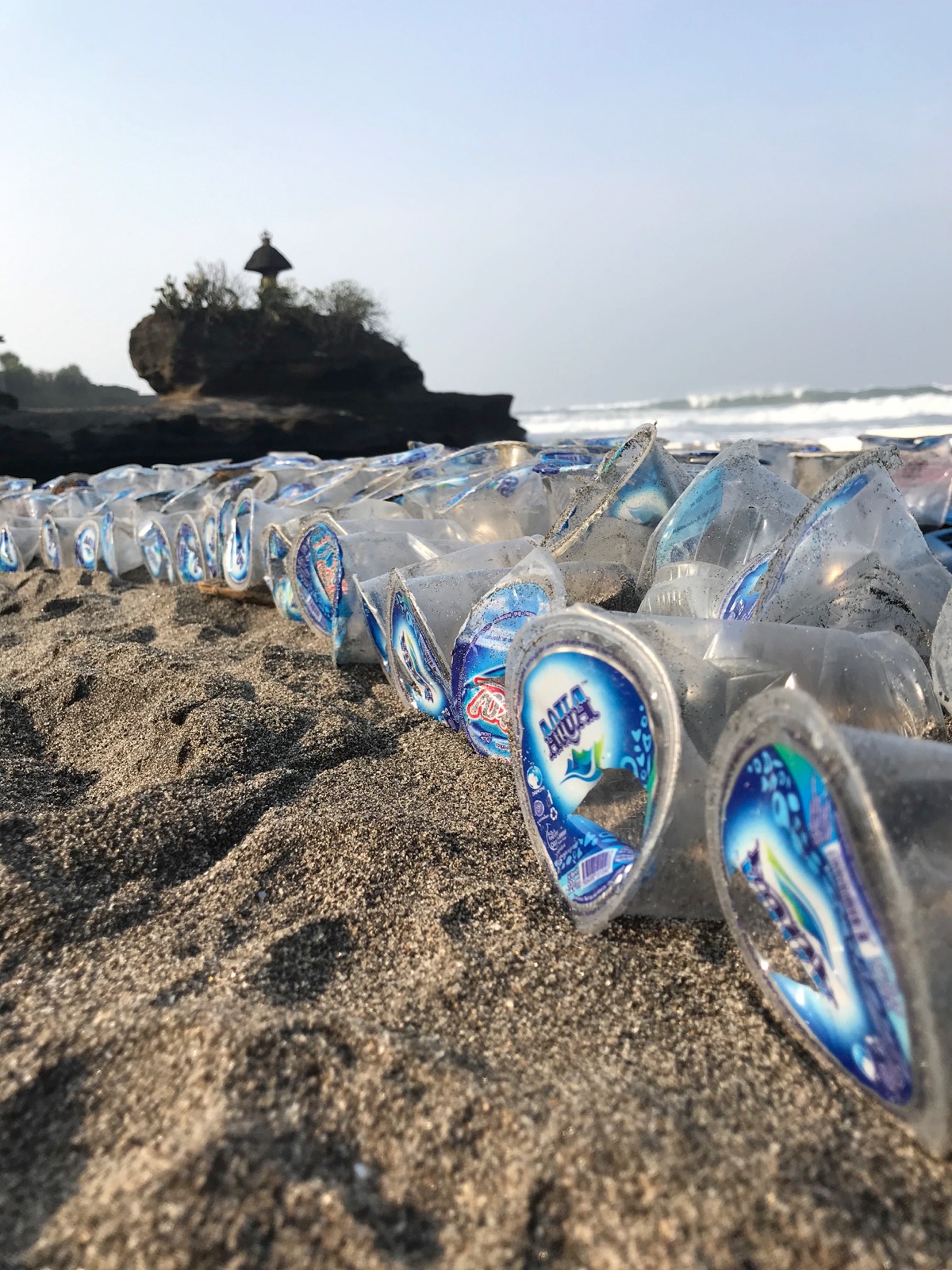 What happens to the waste afterwards?
All of the flip-flops will be reused in either upcoming installations or recycled in collaboration with the footwear brand Indosole. Other recyclable materials have been handed over to the waste management company EcoBali. Non-recyclables like fishing nets and toothbrushes will be deposited in landfill.
Process
Data art installation
4760 pieces of plastic trash
14m (46ft) diameter
12+ hours to install
Visualization design
Original graphic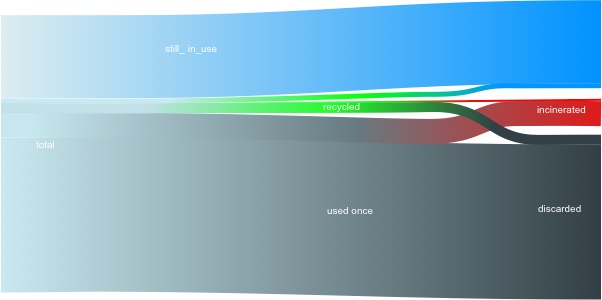 Redesign as Sankey diagram (inspired by Our World in Data)
Semi-circle version
The story behind the main photo
"We woke up at 5am again to be on the beach for sunrise. The high tide had moved parts of our installation and we started putting everything back into place. Half into being finished, another wave washed over our ordered chaos. Again! We had to start over, no choice. After the 4th attempt we had finally finished. We stood with our arms crossed and satisfied with ourselves when we heard it coming from the back: another wave was rolling in. It should be the biggest of the swell. Helpless we stood by and watched as flip-flops, styrofoam boxes and plastic bottles were taken away. We were devastated and tired. When a minute later our drone photographer came running towards us: I got it! I got the shot! All of the drama and ... in a single moment!"
Team / contact
Liina Klauss
Artist and activist working with marine debris in South-East Asia since 2011

liinaklauss.com
Skye Morét
Marine debris scientist and information design strategist

skyemoret.com
Moritz Stefaner
Independent data visualization expert at Truth & Beauty

truth-and-beauty.net
http://instagram.com/perpetualplastic/